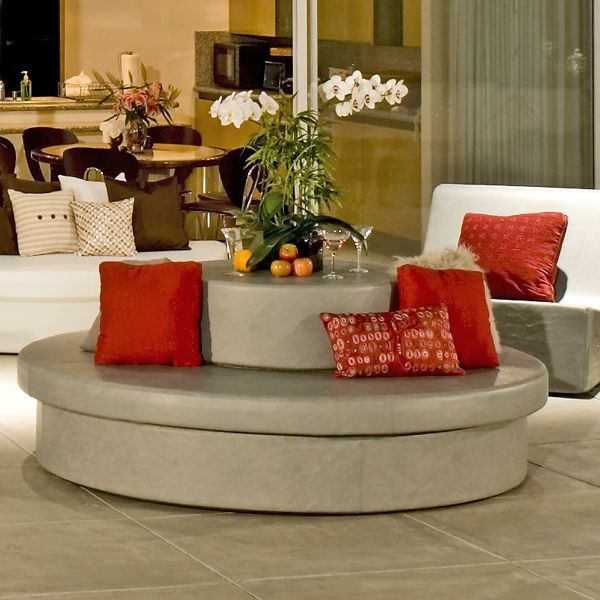 Discover a New Concept in Outdoor Furniture
Un nouveau regard for lifestyle inspirations, la Fête Design brings innovative solutions with sophisticated forms for outdoor home settings as well as indoor clubs and resort hotels.
Mix and match la Fête's edgy designs to create provocative spaces, unique environments, and versatile groupings for parties, events, and poolside lounging.
Our furniture is made from lightweight and weatherproof materials and manufactured in Valencia, California.
la-Fête™ Company and Product Line Overview
la-Fête, The Scene Outdoors is a Los Angeles based company specializing in modern outdoor furniture noted for its striking sculptural lounge seating. The collection is the brainchild and joint venture created by Angie Thornbury, asid/cid and Softub Spas, Inc., a 36-year-old manufacturer of portable hot tubs.
Manufactured in California, la-Fête's modular lounges and resort beds are suitable for poolside, clubs, lounges, decks, rooftop gardens, spas, and events. The unique designs with proven patented technology and recyclable materials, ergonomic comfort and easy care makes la-Fête ideal for hospitality and design-aware residences.
Upholstered in the new black: Chill White, it is an open "canvas" that can be signature embroidered or slip-covered for customization. With its modularity it is versatile in layout to the max. Our product is highly durable and lightweight and easy to maintain, making it an ideal choice for use at resort hotels and outdoor spaces or wherever you can use your imagination.